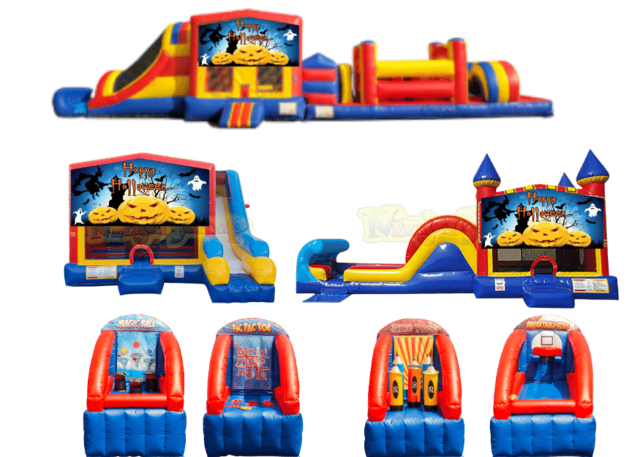 Trunk or Treat Bundle
3 Large Units & Our popular Games
Large Jump & Play 🏀!
Introducing our Trunk or Treat Bundle in Las Vegas! Get ready to elevate your Halloween experience with our exciting inflatable rentals. Transform your event into a spooktacular extravaganza that will leave everyone in awe.
Included in this bundle are a variety of eye-catching inflatables that will create a memorable and entertaining atmosphere. Our collection features a wide range of options, from towering haunted houses and spooky castles to whimsical pumpkin patches and eerie graveyards. Each inflatable is meticulously designed to capture the essence of Halloween, ensuring a visually stunning display that will captivate guests of all ages.
Not only do these inflatables serve as impressive decorations, but they also provide an interactive experience for attendees. Let the little ones slide down the thrilling slides, or jump around in the bounce houses. With endless possibilities for fun, this Trunk or Treat Bundle guarantees hours of entertainment and laughter.
Our inflatables are made from durable materials, ensuring a safe and secure environment for everyone. We prioritize the safety of our customers, and our team of professionals will handle the setup and takedown process, leaving you with nothing to worry about.
Make your Halloween event in Las Vegas truly unforgettable with our Trunk or Treat Bundle. Whether you're hosting a community gathering, school event, or private party, our inflatable rentals will take your celebration to the next level. Don't miss out on this opportunity to create an enchanting and thrilling experience for all. Book your Trunk or Treat Bundle today!