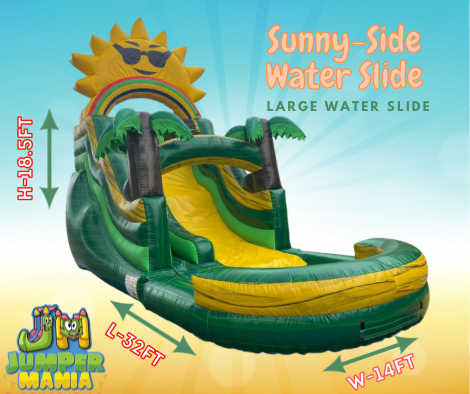 Sunny-Side Water slide

L-32ft | W-14ft | H-18.5ft


Large Slide, Wet or Dry
Setup Area: Recommended Space: L-34ft | W-16ft | H-18.5ft
Outlets: 1
Age Group: Recommended for ages 3-21




Introducing Jumper Mania's "Sunny-Side" Water Slide, the ultimate summer attraction that brings the sunshine right to your backyard! This thrilling water slide is designed with a large sun motif and vibrant palm trees, creating a tropical oasis for all ages to enjoy.
With its impressive size and eye-catching design, the Sunny-Side Water Slide is guaranteed to be the highlight of any outdoor gathering. Kids and adults alike will be thrilled to zoom down the slide, feeling the rush of adrenaline as they splash into the refreshing pool at the bottom.
Safety is our top priority, which is why the Sunny-Side Water Slide is constructed with durable, high-quality materials. The sturdy frame ensures stability, while the soft and smooth slide surface provides a comfortable and enjoyable experience. Additionally, the slide features safety handles and non-slip steps, making it easy and secure for everyone to climb up and slide down.
Whether you're hosting a summer birthday party, a family reunion, or simply want to beat the heat, the Sunny-Side Water Slide is the perfect addition to your outdoor entertainment. Set it up in your backyard, invite your friends and family, and watch as everyone has a blast under the sun. Call Jumper Mania Party Rentals Today And Reserve yours now!
Don't miss out on the opportunity to create unforgettable memories this summer. Get your own Sunny-Side Water Slide today and let the fun begin!