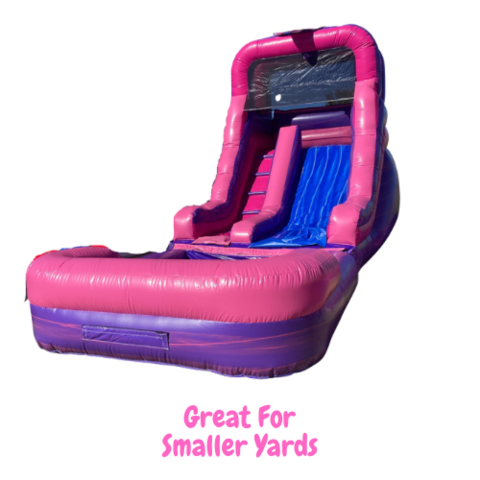 Pink Water Slide

L-23ft | W-11ft | H-14ft


Great For Smaller Yards
Setup Area: Recommend space: 26L x 12W x 14H
Outlets: 1
Age Group: 3-15




Introducing our one-of-a-kind Pink Water Slide, the ultimate attraction for thrill-seekers and water lovers alike! As the exclusive provider in Las Vegas, we take pride in offering an experience that is as unique as it is exhilarating.
This vibrant and eye-catching water slide is designed to make a splash at any event or party. With its striking pink color, it adds a touch of fun and excitement to any water park, backyard gathering, or corporate function. Kids and adults alike will be drawn to its irresistible charm, making it the centerpiece of any occasion.
Whether you're hosting a birthday party, a company picnic, or a community event, our Pink Water Slide is guaranteed to be the star attraction. Its vibrant color and unique design make it a standout feature, setting your event apart from the rest. Capture the attention and imagination of your guests with this one-of-a-kind water slide experience.
At Jumper Mania Water Slide Rentals, we pride ourselves on delivering exceptional entertainment options that leave a lasting impression. As the only company in Las Vegas to offer a pink water slide, we are committed to providing our customers with an unforgettable experience that they won't find anywhere else.
So, why settle for ordinary when you can have extraordinary? Make a splash and create memories that will last a lifetime with our exclusive Pink Water Slide. Contact us today to book this exceptional attraction for your next event!