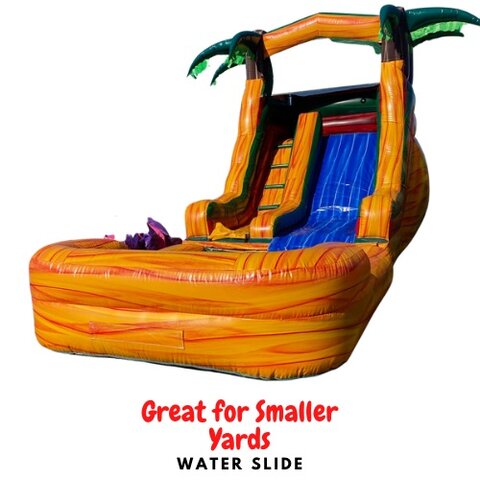 Palm Tree Volcano Water Slide

L-23ft | W-11ft | H-14ft


Great For Smaller Yards
Setup Area: Recommended space: L 26FT x W12FT x H 14FT
Outlets: 1
Age Group: Best for Ages 3-13




Introducing the Palm Tree Volcano Water Slide, the ultimate summer attraction that will turn any ordinary event into an unforgettable tropical adventure! This thrilling water slide combines the excitement of a volcano-theme with the cool refreshing splash of water, creating an exhilarating experience for all ages.
Standing tall with vibrant palm trees on either side, this eye-catching water slide will transport you to a tropical paradise. As you climb to the top, anticipation builds, and you can feel the adrenaline rushing through your veins. Get ready to take the plunge as you slide down the steep path, feeling the rush of wind against your face.
Perfect for backyard parties, corporate events, or community gatherings, the Palm Tree Volcano Water Slide will be the highlight of any occasion. It offers endless hours of fun, laughter, and excitement, making it a must-have addition to any summer celebration.
Don't miss out on the opportunity to create unforgettable memories with the Palm Tree Volcano Water Slide. Book now and get ready to embark on an exhilarating adventure that will leave everyone wanting more!